Conception and birth of the Nigerian Environmental Study Action Team (NEST) happened at the same event, at a workshop mounted by the Canadian development organization, CUSO, on 17th July, 1987, at the Conference Centre, University of Ibadan. The workshop was attended by 25 participants, mostly academics and conservationists, who had been invited to examine the feasibility of an 'Environmental Research Project for Nigeria'.  Fired by exposure, mainly through video clips, short presentations and display of publications,  to approaches adopted in other countries to tackle environmental problems, the participants decided that nothing short of a strong environmental non-governmental organization was needed to begin to address Nigeria's environmental problems, hence the idea of NEST.  The idea coincided with that held by the CUSO West African Regional Director, Sharon Capeling-Alakija, whose decision to dedicate proceeds from the funeral of her husband to an environmental cause had, in the first place, inspired and facilitated the workshop.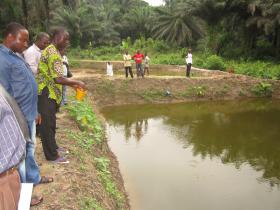 Beyond agreeing to establish an NGO, nothing was done immediately towards institutional building of the organization. There was a palpable feeling that there was much work to be done and we had to get on with it fast. The overriding focus was on profiling the Nigerian environment quickly, as the first step on the long road to getting Nigerians to relate sustainably with their physical environment. A coordinating committee comprising Ademola Salau (as chair), Tade Aina, Uzo Igbozurike, Kingsley Ologe and David Okali was elected by the workshop participants, to drive the profiling project.  Eva Murray was added to the committee because of her position then as the Director of CUSO in Nigeria. We called ourselves the Nigerian Environmental Study Team (NEST) to emphasize the initial purpose of the group, thus the birth of NEST.
Building the organisation
The first step towards institutional building of NEST was forced by the need to meet the requirements of IDRC, who had been approached to fund the profiling project. IDRC required that NEST be registered before it could do business with it. The process of registration in turn required NEST to have a board of trustees and an article of association (a constitution). Work on the constitution led to defining the vision, mission, mandate and objectives of the organization.  The Coordinating Committee was re-designated as the Executive Committee and we thought it wise to add 'Action' to our name to indicate our commitment to follow studies with action. Registration was completed in 1989, under the Land Perpetual Succession) Act (Cap 98), with Registration Number 5185, formally establishing NEST as a not-for-profit, research, advocacy and training organization.   
In the first few months the Executive Committee met frequently (weekly or fortnightly) mostly in Ibadan, because of the presence and support of CUSO. We met in hotel rooms and CUSO offices, not having the funds to hire meeting rooms.  CUSO provided much needed financial and administrative back-up, offering us a table in their Ibadan office and, most importantly, the services of their very able administrative officer, Henry Osadolor, who became responsible for keeping all the early records of NEST activities. CUSO provided support until 1990 when, with NEST receiving funding support from other sources, like the African Network of Environmental NGOs (ANEN), it began to wean NEST off its basic support. First, we engaged our own staff in the person of Kole Ade-Odutola, then a recent Biology graduate from the University of Benin, with a flair for the Arts and a passion for the Environment. Kole became the sole staff of NEST working out of CUSO office in Ibadan. He was already familiar with the Nigerian NGO world, and so was additionally a valuable source  on these matters.
By January 1991, about three and half years  after its establishment, NEST found and moved to its own office in new Bodija, No. 3 Okunola Abass Street, off Aare Avenue. With our own office, we rapidly expanded in staff, employing a typist, Yemisi Fowokan and a Security man, Francis Ashu. These were soon joined by our first CUSO co-operant, Ian Stein. Further major physical developments were the transfer from 3 Okunola Abass to 27 Aare Avenue in 1992, followed by the acquisition and movement to NEST's own property, the present NEST House, at No.1, Oluokun Street, Bodija, in 1996. A gradual build up in work infrastructure – communications, computing, transportation and power generation equipment – accompanied the physical development.
Achieving organisational sustainability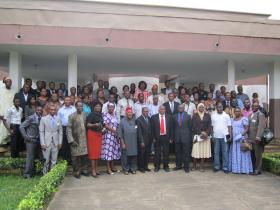 NEST celebrated its 25th anniversary in July 2012 and counted among its achievements, first, the fact that the organization had been sustained over the period, despite the fact that most of its initiators were no longer with it. Reasons for this must include the structure of the organization as a loose network of members coordinated by a small core of governance structures - a slim secretariat with a small staff and an executive committee (now Board of Directors) of nine members, orchestrating the expertise of over 300 members in delivery of projects and assignments.
The second factor is the valuable partnerships, linkages and networks that the organization had forged. The combination of these two factors enabled NEST to achieve a modest degree of success in its objectives of collecting data or generating knowledge on the Nigerian environment through research, and placing this knowledge at the disposal of stakeholders through publications, workshops and briefing meetings, to stimulate debate, intensify awareness and sensitize policy makers.
Profiling the Nigerian environment
The flagship and ground-breaking publication of NEST was the profile of the Nigerian environment titled 'Nigeria's Threatened Environment: a National Profile', published in 1991. This publication, more than anything else probably brought NEST to the serious attention of IIED, then headed by Richard Sandbrook, and initiated a linkage which blossomed into the Regional and International Networking Group (RING) of policy research organizations focusing on sustainable development. Under the RING, NEST honed its expertise on Multilateral Environmental Agreements, and, in fact, became a leading NGO champion and focal point for negotiating and implementing the Convention on Combating Desertification.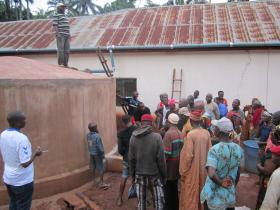 The RING experience prepared NEST for engaging, later, profitably with Canadian organizations, from 2001 to date, and with support from CIDA, in raising awareness and policy advocacy on climate change in Nigeria. A notable achievement in this regard was to spearhead the preparation of the National Adaptation Strategy and Plan of Action on Climate Change for Nigeria (NASPA-CCN) that was one of eight case studies on national adaptation planning processes listed at the 37th session of SBSTA in Doha recently.
Strengthening the organisation
Earlier, between 1992 and 1998, support from the Ford Foundation had enabled NEST to increase substantially its knowledge of people's interaction with the Nigerian environment. This was achieved through research awards made annually to 4 – 7 candidates following a rigorous competitive selection process. At the same time Ford Foundation supported NEST to make annual Environmental Action Awards to schools, communities or organizations that excelled in environmental action.  NEST's weak organizational structure and informal management style were overstretched by running these competitions while carrying out other activities.  
However, with further Ford Foundation support, the threat of this to sustainability and efficiency of NEST was obviated through a revision of the organizational structure, staffing and ways of working, following an intensive internal and external evaluation and audit of the organization. This resulted in an organization that became more professional in structure and programme planning than it was before. Programme and project staff are now distinguished from administrative and support staff and operations are guided by a strategic plan that is periodically revised after a review of the organization's development.
Reflections: the complexities of satellite operation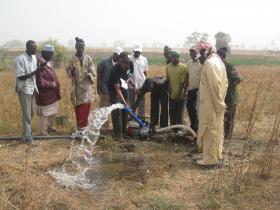 As a membership organization, NEST had hoped that its members, besides serving as resources that can be readily mobilized for projects and assignments, would also serve as satellites for the rapid dissemination of the organization's influence. Along with the idea of having chapters or branches of the organization, the idea of members serving as satellites was abandoned because of the lack of capacity to coordinate such a structure and avoid dissipating effort  in reining in branches from developing into rival organizations. NEST has also not been as successful as it would have wished in developing the capacity that would enable it to be independent of donors in carrying out actions it deems to be strategic, such as responding spontaneously by holding roundtables and stimulating debate on events, like the recent floods that ravaged Nigeria.
Key turning points
Besides the initial period of support by CUSO and IDRC that launched NEST and led to the publication of Nigeria's Threatened Environment: A National Profile, key turning points in the organization's history have been the periods of association with Ford Foundation for institutional development, the RING for developing the expertise on multilateral environmental agreements and sustainable livelihoods, and CIDA for the work on climate change. Over this period, NEST has learnt that there is no substitute for thoroughness and evidence-based actions or statements for attaining and maintaining the kind of reputation it now enjoys as an environmental NGO. Because of the mismatch in time frames of government ways of working and those commonly used in implementing donor-funded projects, a hard lesson that has been learnt is the importance of developing alternative plans e.g. Plan A and Plan B, when working to influence policy through association with government.  
Influencing government policy
It is NEST's ambition to increase its association with decision makers at the national level. This is informed by the relative success the organization has achieved with influencing national policy on climate change. It is hoped that the present headquarters of NEST at Ibadan will relocate to Abuja, to facilitate closer association with policy makers. 
Working with business
It is probably a long delayed response to the influence of the association with IIED and Richard Sandbrook that, for the first time, NEST is associating with a business company, Shell Petroleum Development Company (SPDC), on the latter's work on remediating the Niger Delta environment. Before now, NEST had been ultra-cautious with dealing with such companies, as a protest against perceived abuse of the environment. NEST policy is here relaxed because the association is specifically for the purpose of remediating the environment and, in any case, NEST will be working with a world renowned environment organization, the IUCN, on the project and has the example of IIED and Richard Sandbrook to rest on. 
January 2013